General sizing advice
We know choosing the right size and fit might be tricky. Generally, our products follow the same size chart, but some fits and fabrics might change our sizing recommendations. You can find both a size calculator and specific garment measurements on each product page to help you find the perfect size. You can also compare product measurements with an existing similar item if you're unsure about which size to choose. However, we always suggest following the body measurement chart first.
Keep in mind that a lot of sizing is actually up to individual preference. You can think of whether you like your swimwear to be a snug fit and better for watersports or a softer fit - many prefer this for tanning and chilling. If you are in between sizes, you can probably wear both, but it's up to you which fit you'll prefer. Also think of whether you'd like your bottoms to sit high above the hip or lower over the hip bones? If you like a low fit, you can opt for a larger size than someone who prefers a high fit, even though your hip measurement would be the same, and the other way around.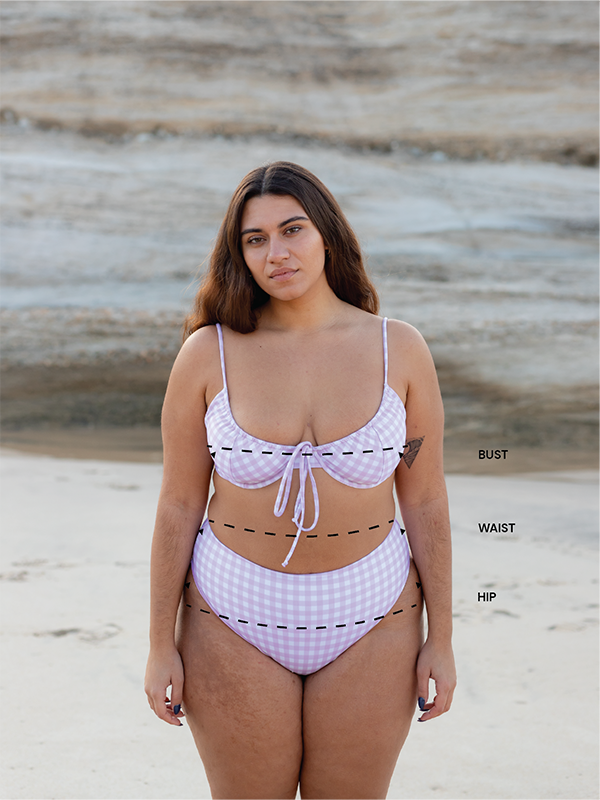 How to measure?
TOPS
Measure bust over the fullest part of your bust (usually somewhat over the nipples) when wearing an unpadded bra or a bikini top. Ensure that the measuring tape stays straight around your back and don't pull the tape too tight. Check out your bust measurement and compare it with our size charts for our suggestion of the best size for you. 
BOTTOMS
Measure your hips around the fullest part of the hips and ensure the measuring tape is straight. Note that this point is well below your hip bones and does not reflect where the bottoms sit on your body. Please note that bottoms might feel a bit tight/snug when worn for the first time.
ONEPIECES
Measure your bust and hip measurements the same way you would with individual top and bottoms and match them with our size chart. If you are tall, have a longer torso and/or are in between sizes, we recommend choosing a size up in our onepieces. If you are unsure about the length, choosing one size up usually doesn't make the suit too loose but can give extra comfort with a couple more cm's in the length!